Who me?
Art by Praxid!
Warning: don't take on an empty stomach, and only one tiny little drop at a time, otherwise the experience might burst your shriveled up little heart. Got it? 
Wotcher!
So…….
Things about me… I… like to… sing and dance…I like to sing and dance… I want to be a pirate in the Pirates of Penzance…Okay not really but whatever. 
I'm a nerd/geek/whatever. I'm a mum to a german shepherd named Ruby, and I'm a university student in Oregon doing digital media, communications, and video production. I'm learning American Sign Language (and along with it about Deaf culture), and I LOVE dogs. My goal in life would be to find a way to make my work with sign language, digital media, and dogs all come together. I'm working on it. 
Uhm….Identity crisis? Population: me. For a million reasons, but for the most trivial reason, my sorting on Pottermore. I was convinced that I was a Slytherin, but according to Pottermore, I'm a Ravenclaw. I love both houses, so I'm not much bothered, but still…
I have 15,000+ songs in my iTunes library, so it's safe to say I'm an audiophile. I'm a tech nerd, and a lover of pretty things on the internet. (Blogs, digital media, graphic design, photography.) I love and miss reading and writing; Doctor Who is a good keyword to make me your friend, as is an interest in Primeval, The Walking Dead, ANYTHING Andrew Lee Potts or Norman Reedus has done, Harry Potter, Buffy the Vampire Slayer, photography, film, music, the 80s, or dogs. I'm also an anglophile, so take me to Britain yeah?
ALSO: I HAVE MET AND OUT-AWKWARDED NORMAN REEDUS. Yes, apparently this is possible. Sorry, Norman. =D (At least he thought my name is cool!) 
I'm going to contribute to the douchbag jar for this, but, I've got lots of internet swag, so check me out at these places!  
http://raidersnest.tumblr.com/
http://evanescent-chaos-photography.tumblr.com/
http://evanescent-chaos.deviantart.com/
Music Blogs:
      Weeknights At The Bronze [Buffy the Vampire Slayer]
      Radio Neptune [Veronica Mars]
      SwampBloodMusic [True Blood]
      Radio Woodbury [The Walking Dead]
      After A Long Day at the ARC [Primeval]
Pottermore: VineBat175
XBOX Live: TARDIS Voodoo
Steam: VoodooInTheTARDIS
Currently Watching:  Northern Exposure: Season 2, Band of Brothers
Currently Reading: Fragile Things ~ Neil Gaiman, The Girl With The Dragon Tattoo, Game Of Thrones
Now have some random .gifs that I feel are important!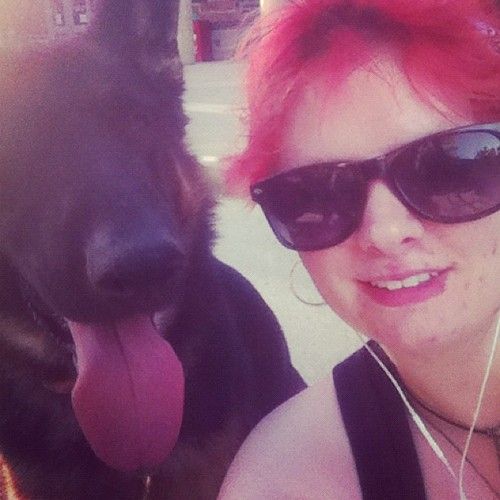 you are darkgreen
#006400 
Your dominant hue is green. You're logical and steadfast, focused on figuring life out and doing what makes sense. You value being trusted because you know you're taking the time to figure things out and everyone should just follow you.

Your saturation level is very high - you are all about getting things done. The world may think you work too hard but you have a lot to show for it, and it keeps you going. You shouldn't be afraid to lead people, because if you're doing it, it'll be done right.

Your outlook on life is slightly darker than most people's. You try to see things for what they are and face situations honestly. You'd rather get to the point than look for what's good. the spacefem.com html color quiz